---
Spring Box 2019 Reveal
REVIVE...RE-ENERGIZE AND REJUVENATE
---
---
Spring Box 2019 Reveal
REVIVE...RE-ENERGIZE AND REJUVENATE
---
It's officially Spring! As we leave the Winter season and head into Spring, we want to give you a chance to re-energize and rejuvenate your senses. With the flowers blooming and the sun showing its' ray of light, the presence of warmth offers a chance for you to indulge in some Active Self-Care. The Spring REVIVE box features all things to get you active and bring a little outdoors to your girl's- night-in. It's time to REVIVE your lifestyle with a bit of action with your relaxation. So, lets mix up your girl's-night-in with a little fun in the sun.
The products are sweet, but the experience is "O so Nice!"
The products are sweet, but the experience is "O so Nice!"
The Ultimate Self-Care Essentials
The focus of your self-care essentials this season are:
*Active Self-Care Fun
*Luxury Nail Polish
*Detox & Anti-Aging Essentials
*Yummy goodies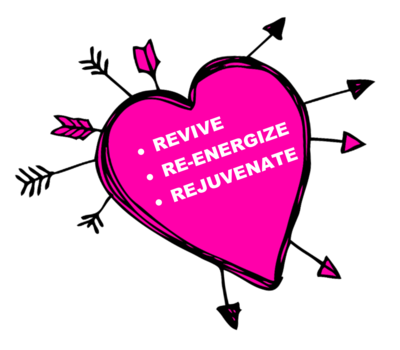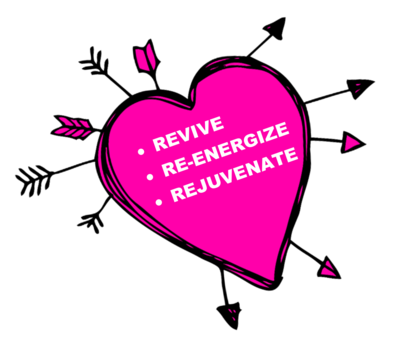 Ready to feel lavish this spring season?
Here's what's in the Lavish Box...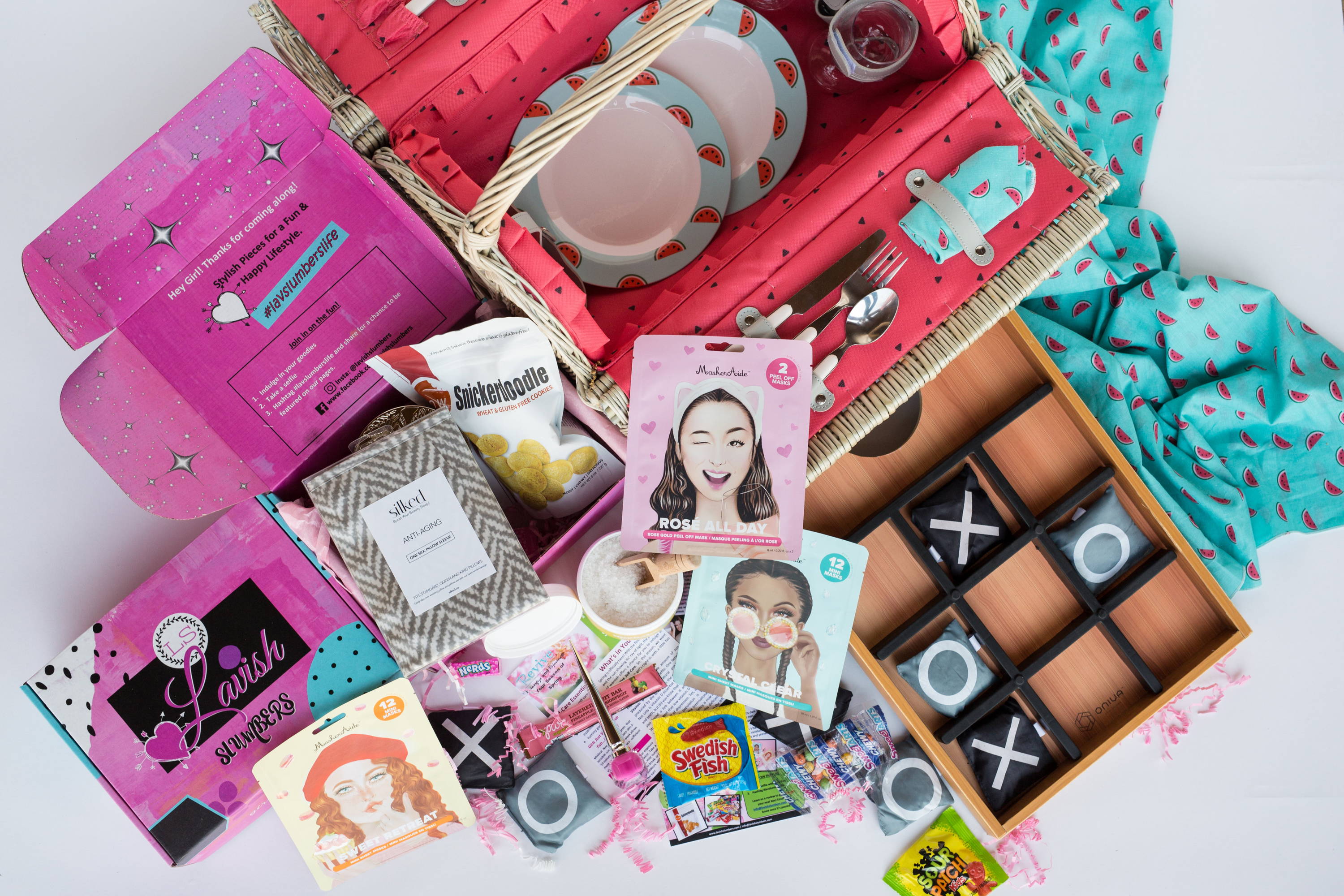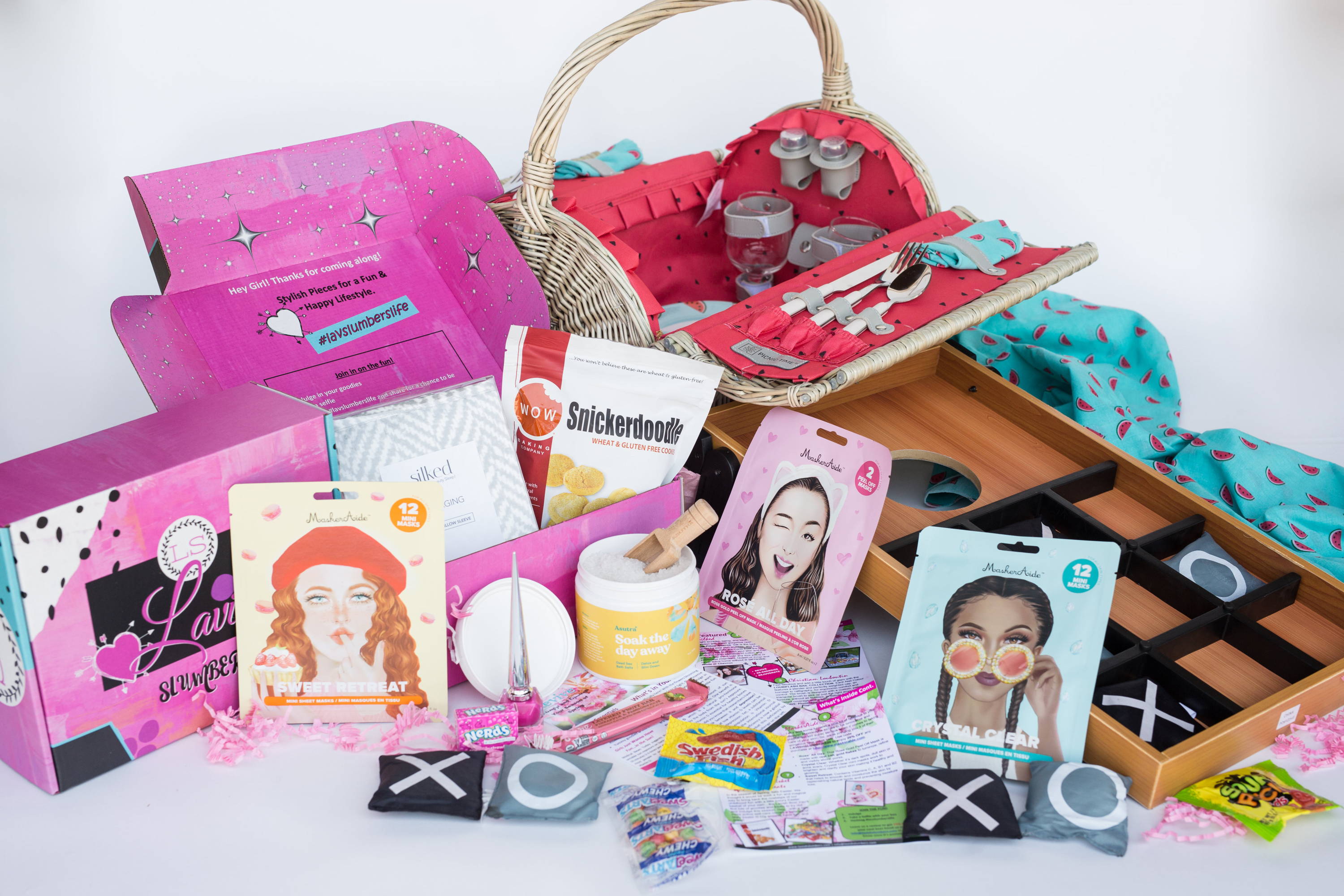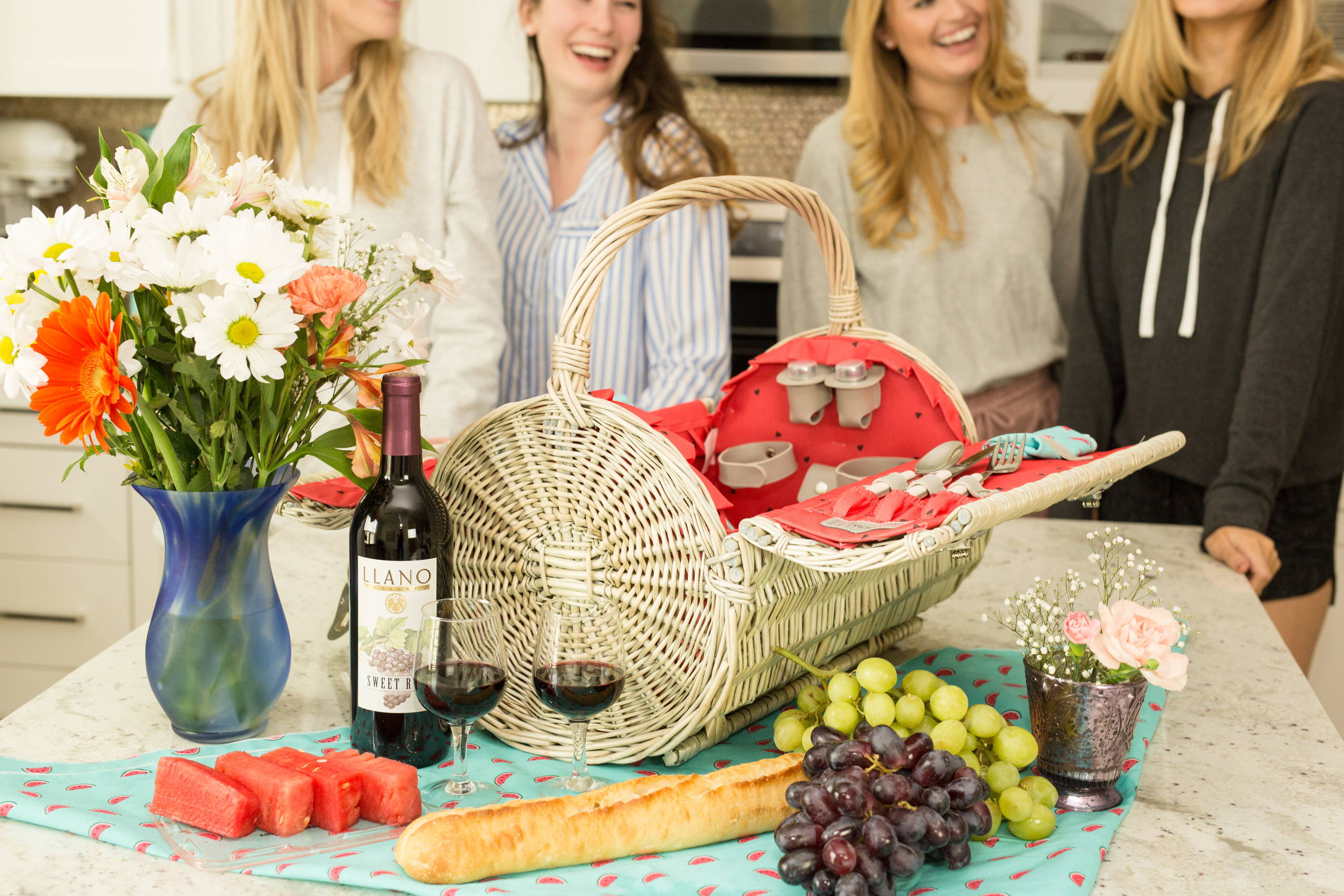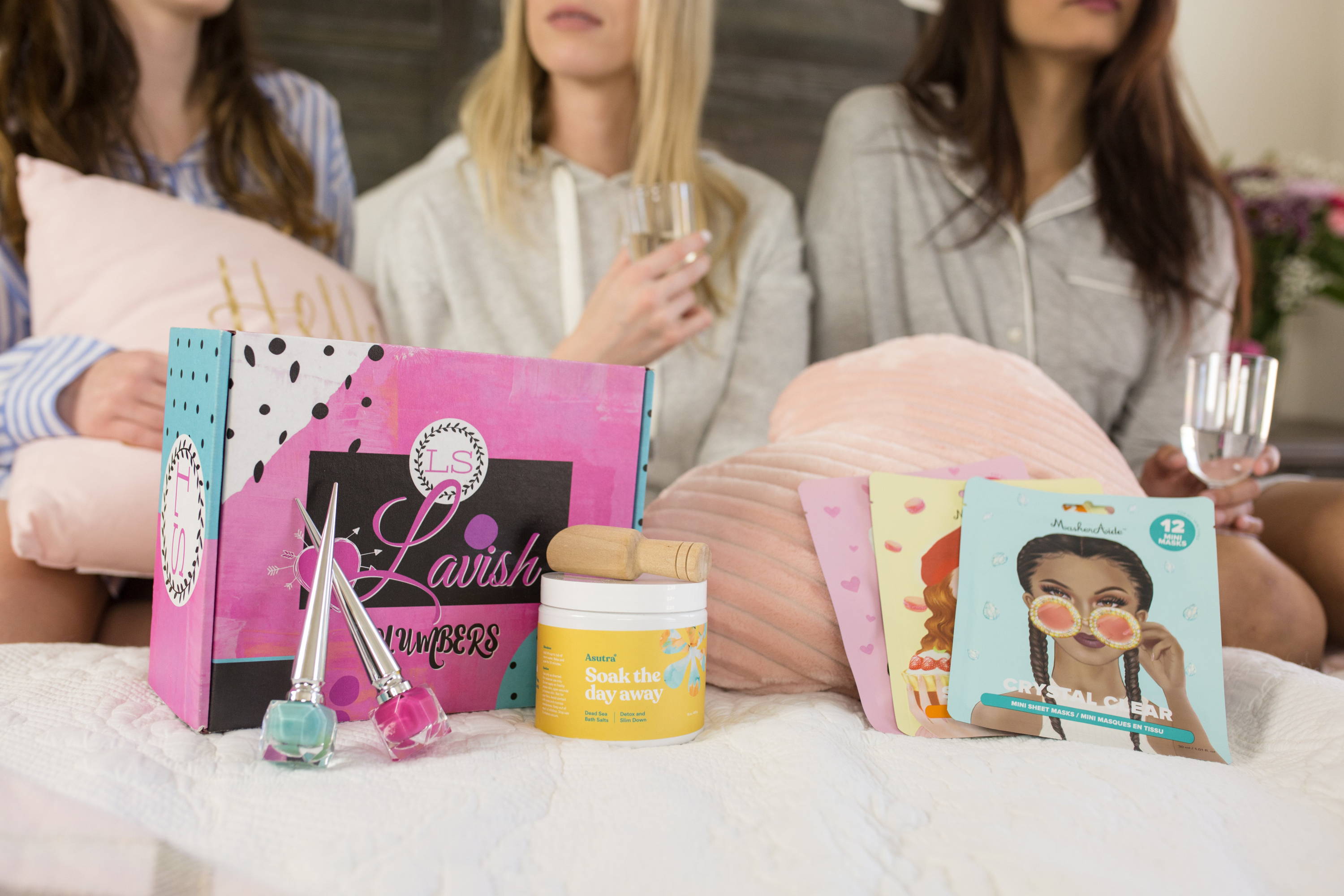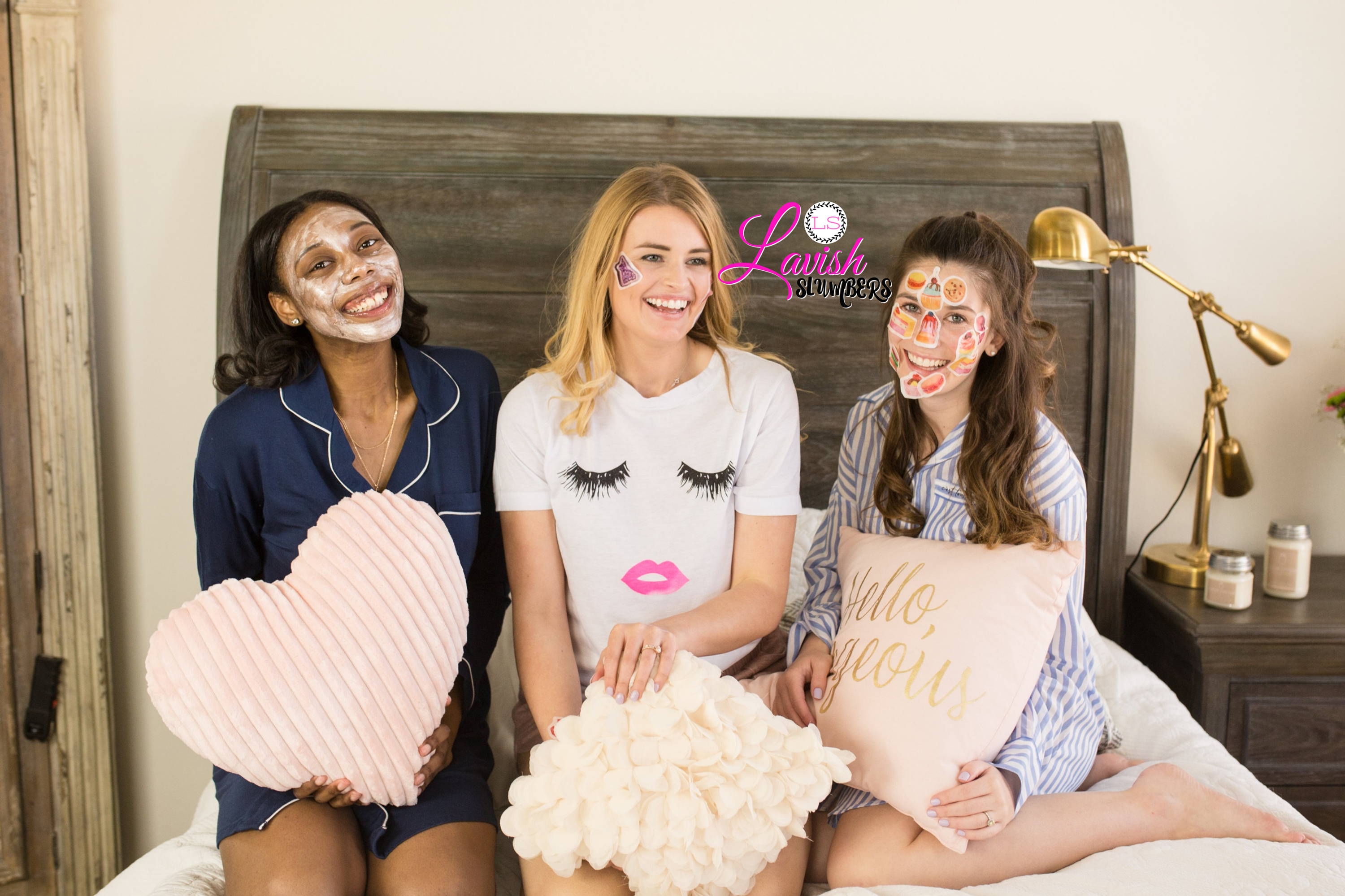 Click through to see details about each piece below.

Click through to see details about each piece below.

Wicker Barrel Watermelon Basket
This season, you can expect to see this FABULOUS Wicker Barrel Watermelon Basket with a cute and fun Watermelon print lining. It includes: 2 plates, 2 napkins, and 1 tablecloth (all aqua with a mini watermelon pattern), 2 hand-blown wine glasses, 2 stainless steel forks, knives, and spoons, 1 set of salt and pepper shakers, and 1 stainless steel waiter-style corkscrew. With a retail value of $159, you can create and setup your own beautiful picnic get together for yourself and the bestie! Annual Subscribers Only!
4-Person California Picnic Tote
This amazing 4-person picnic pack tote includes top of the line Cutlery and Flatware essentials: 4 x Cutlery Sets, 4 x Wine Glasses, 1 x Salt/Pepper Shakers, 4 x Dinner Plates, 1 x Corkscrew Opener, 1 x Cheese Knife, and 1 x Cheese Board. With a retail value of $60, it's absolutely perfect for a girl's bruncheon in the park!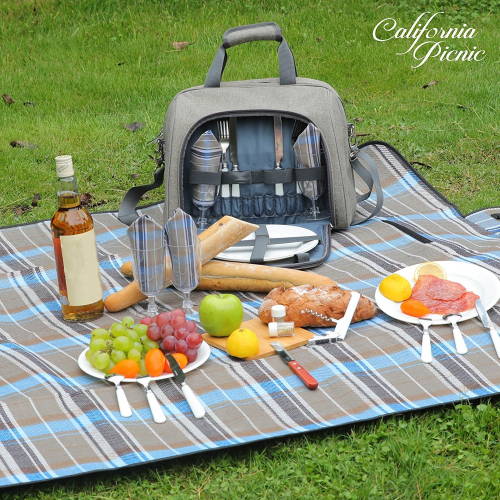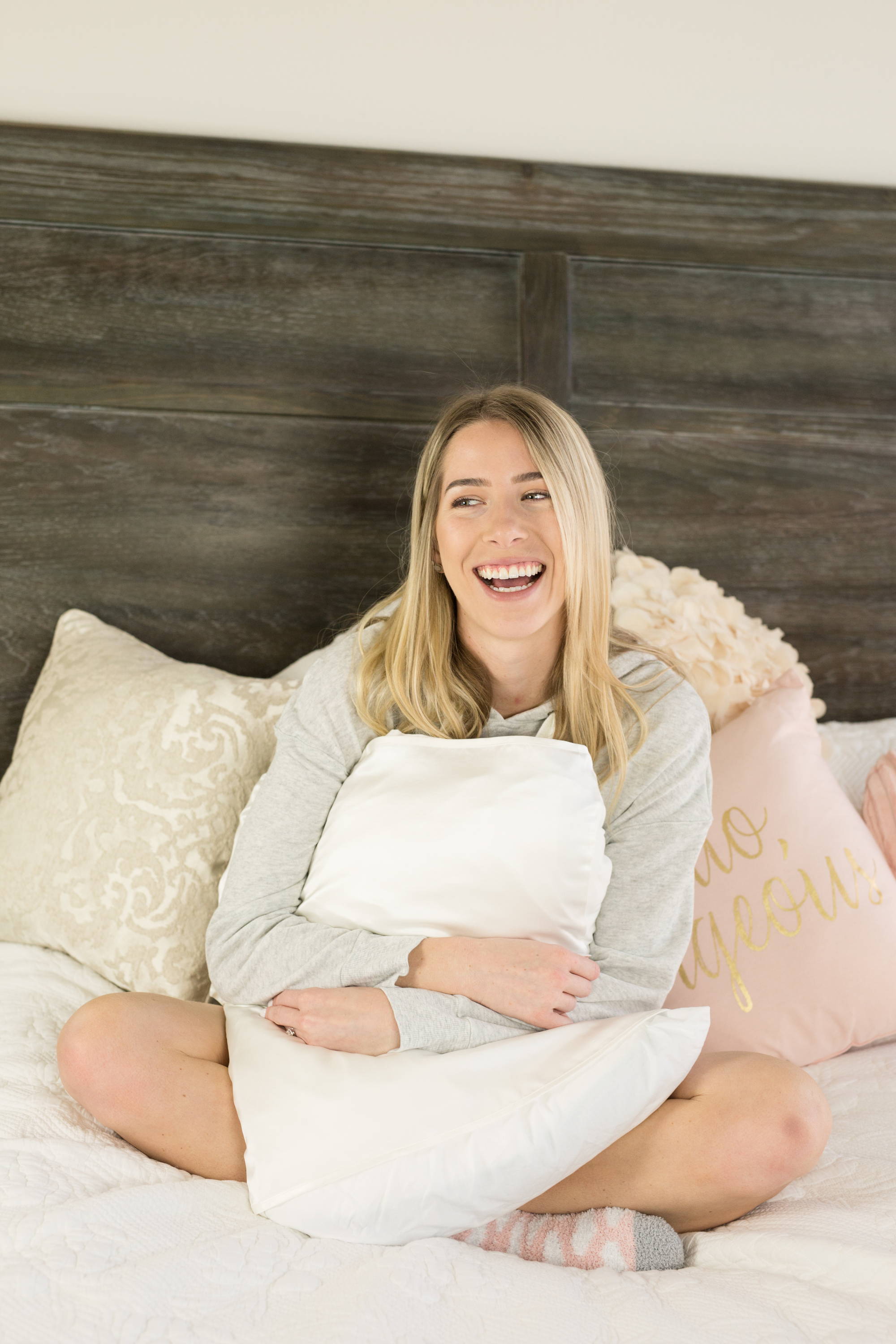 OPTIONS: White or Chevron
We're bringing you the best beauty secret for your skin and hair...SILK! These Silked Pillow Sleeves are made from the finest mulberry silk to protect your skin and hair from the harsh elements of cotton and germs. Its open-ended design easily slides over any size pillow and pillowcase - Standard, Queen or King. Additionally, it has a jersey back so it does not slide off at night like most silk or satin pillowcases do.

Anti-Aging and Moisturizing Components:
Silk is known to be an anti-aging and moisturizing force. It keeps the skin hydrated to help prevent wrinkles and breakouts; and if you're a stomach sleeper like so many of us, then this is the perfect addition to your beauty regimen. The added moisture that the pillow retains reduces friction for your skin and hair - leaving less damage, friction, and hair breakage. Bye-Bye bed-head, tangled dry hair, dry skin, crease lines and much more!

With a retail value of $69.50, it's absolutely perfect for your home, hotel, and travel. So pack up the car this Spring and make sure that you bring your Silked Pillow Sleeve on the road with you! Never leave home without it again.
Asutra
With a focus on Active Self-Care, let's detoxify and purify your body with Asutra's Soak The Day Away Bath Salts. This Eucalyptus and Tea Tree Salt is a deeply therapeutic, aromatic, luxurious bath soak which enhances your body's natural detoxification process, bolstering your immune system, fighting cellulite, and stimulating weight loss.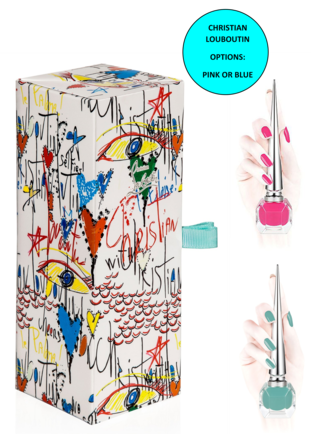 Christian Louboutin
Feel fabulous and add a little touch of glam with the LOUBIFLASH NAIL COLLECTION. Each Nail Colour features a slender and perfectly weighted cap, an homage to calligraphy, for ergonomic comfort and control. The brush is designed with a custom, patented triangular brush to pick up just the right amount of formula, without air bubbles, to deliver flawless, chip-resistant coverage and a smooth, even application.
OPTIONS: Pluminette (Pink) or Batignolles (Blue)
Play and stay together with this fun indoor/outdoor Mini Bean Bag Throw Game. Experience a little game of Tic Tac Toe on one side. Then turn it over to have a little Cornhole fun. Have fun and live a little more!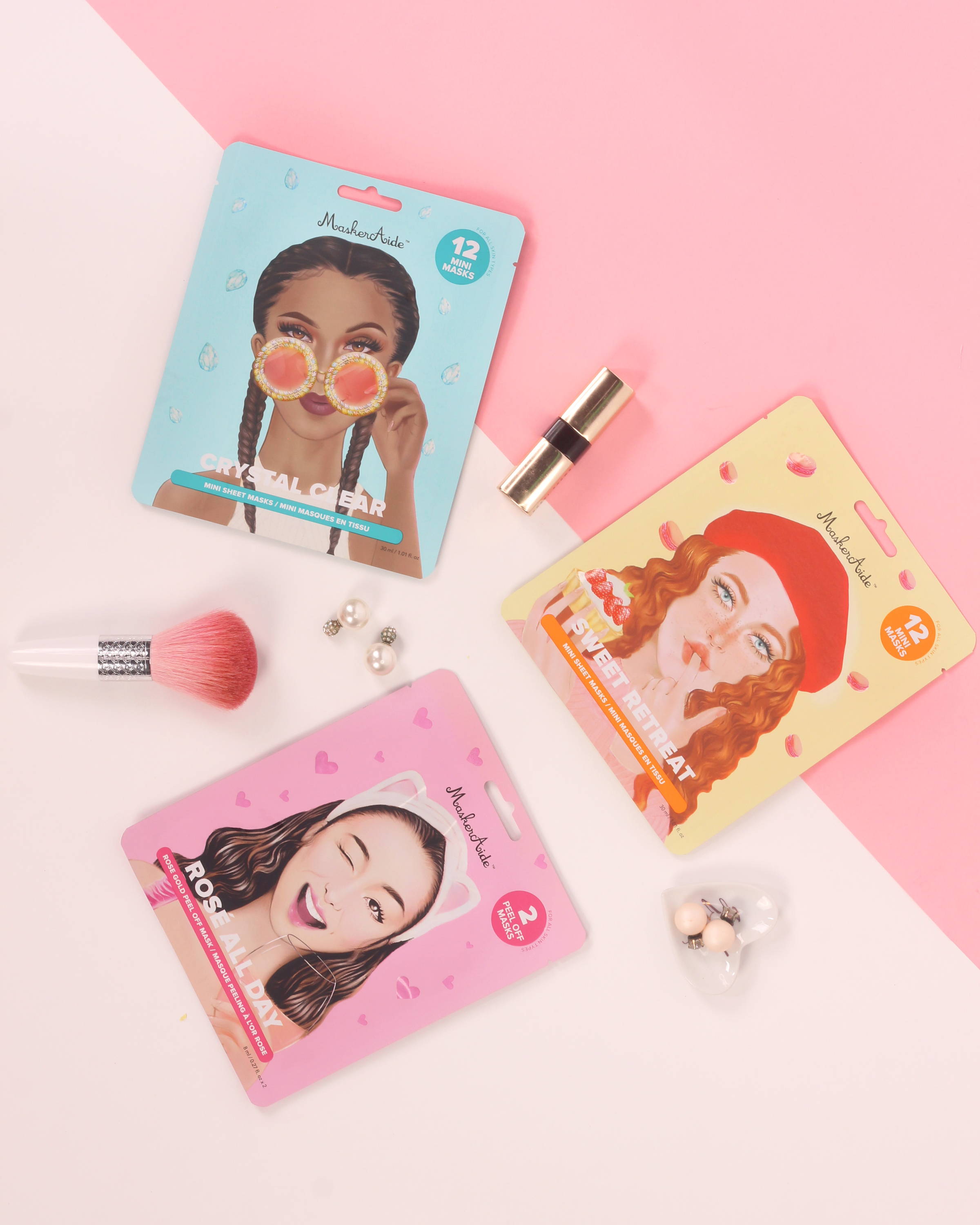 Let's add some fun with a little bit of fabulous to your lifestyle! MaskerAide strives to be innovative and playful, yet still super serious when it comes to taking care of your skin. So, we're bringing you 3 of their gorgeous face mask sets. Use code LAVISHSLUMBERS20 to enjoy 20% OFF any purchase at http://www.maskeraide.com.
Rose' All Day: This Rose Gold Peel Off Mask is made with real 24K gold flakes to luminize, refine and visibly shrink pores.
Crystal Clear: Whether it's dark spots, dull skin or acne scars, Crystal Clear mini masks work to brighten and clarify your skin making it healthy and glowing.
Sweet Retreat: Contains Vitamins C, A, B1 and B2 that helps to smooth and moisturize the skin by replenishing natural lipids and preventing moisture loss.
Lavish Easter Box of Yummy Treats
In the season of Spring, falls Easter. We thought it would be such a fun and magical way to bring back the nostalgia of our childhood fun with a little luxury Easter basket of your own…the Lavish Box! You'll find lots of goodies and treats to try out and indulge this season. Hey…with a little more active self-care comes a balance of tasty treats! Dig around, have fun, and enjoy!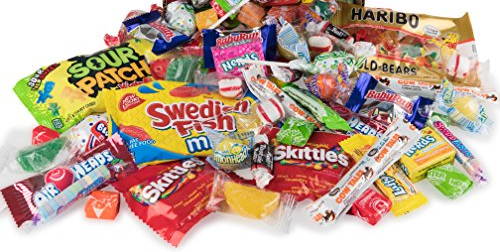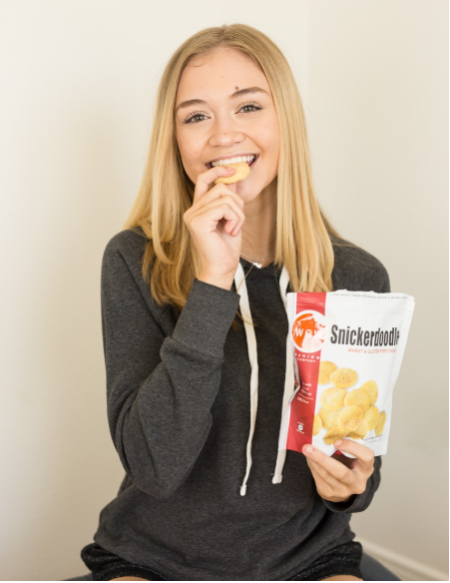 Is there a connection between Vitamin D and Depression?
It's no secret that a sensible amount of sun exposure can offer great benefits. One benefit is Vitamin D which is a natural pro-hormone produced by the body from the sun's exposure. Not only is Vitamin D essential for healthy bones and teeth, but did you know that researchers have also found a link between it and depression? Studies suggest that low vitamin D levels can be the direct result of depression. Yet, a substantial percentage of our population is Vitamin D deficient. According to the International Journal of Health Sciences, this deficiency is now a global health problem. Let's combat this deficiency by completing this season's challenge below.
6- Week Challenge Goal: Medical News Today suggests that sensible sun exposure on bare skin 5-10 minutes 2-3 times per week allows most people to produce sufficient vitamin D. Let's get some healthy sun exposure 3 days per week this season for 6 weeks. Take a stroll around the block, step outside the office to take a mini break, or just enjoy some time outdoors with the pup. Just get in the sun!
Why we created Lavish Slumbers: We owe it to ourselves as women to be a priority in our own lives. Sometimes the caretaker needs to take a day off. If we don't take care of ourselves, what more do we have to give to others? Life is too short and "Burn Out" is inevitable!
Why we created Lavish Slumbers: We owe it to ourselves as women to be a priority in our own lives. Sometimes the caretaker needs to take a day off. If we don't take care of ourselves, what more do we have to give to others? Life is too short and "Burn Out" is inevitable!
Customer Talk and Feedback

"Hello! I received my box and everything is great! Even though I'm not normally a fan of pink I love the slippers. They are really pretty and super comfy. Loved everything in the box! What a great box! High quality items that are thoughtfully curated and customer service that is terrific. You can't go wrong with this subscription!"
— Christy
"You guys just made my day a billion times better!"
— Ericka
" I really loved this box. It has everything I loved from skin care to teeth whitening, snacks, & cozy comfort you name it. Thanks Lavish Slumbers.
— Erica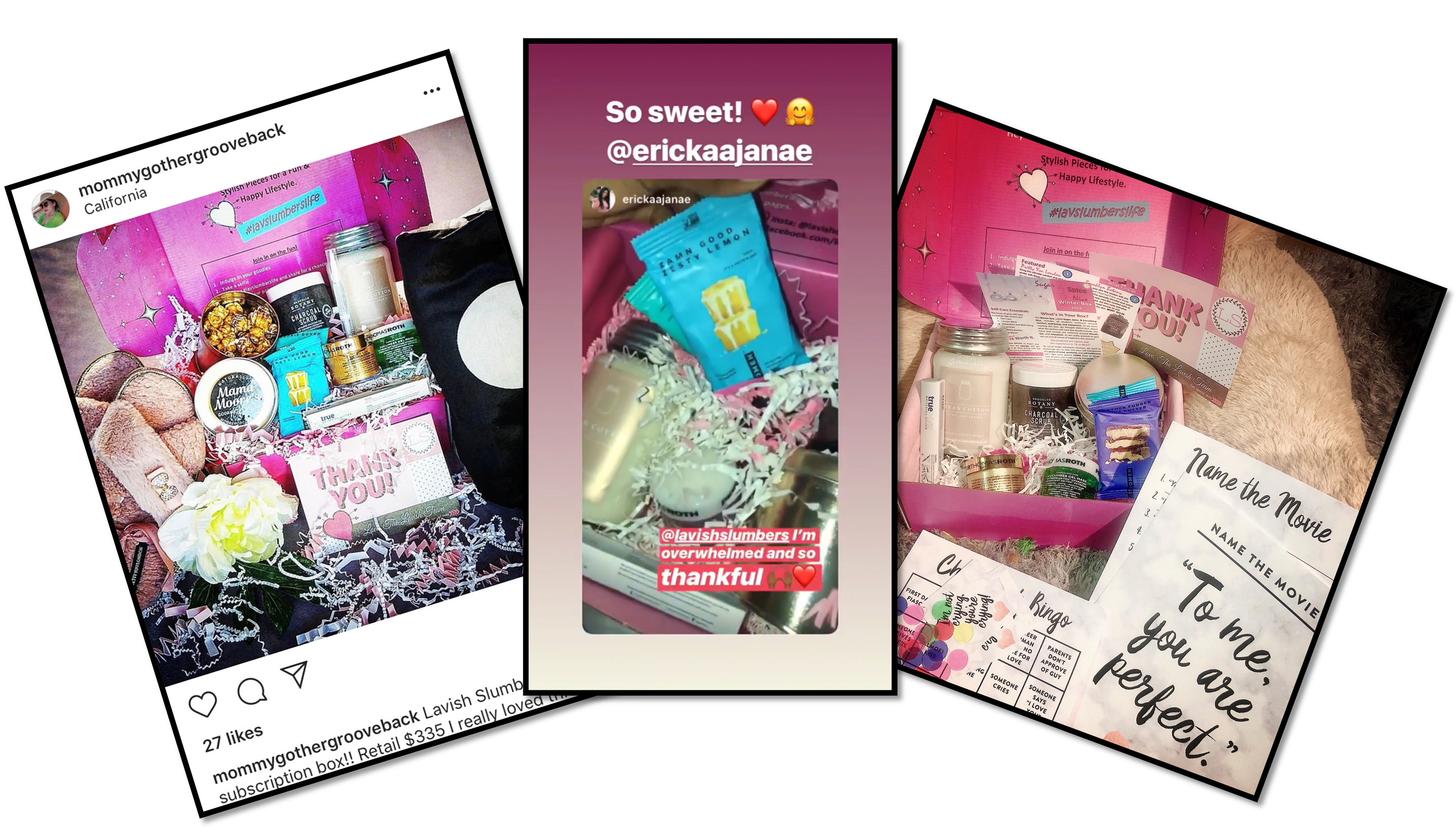 HAVE YOU SEEN THE WINTER BOX 2018 REVEAL?
Sugar, Spice, and
Everything...O So Nice!
Thanks so much for your love & support!
Please like and subscribe to our pages and share the love on the pink social buttons to the right. We're so appreciative!